2015/09/22

We are participation in 2015 San Diego Green Building Conference & Expo on September 22nd.

When :
22 Sep 2015 8:30 AM - 6:00 PM
Location :
Energy Innovation Center, 4760 Clairemont Mesa Blvd, San Diego, CA 92117

Details : http://usgbc-sd.org/event-1920483

Please see us there to get the latest update of Geo Power System.
Energy Saving plus
Natural and Healthy Living Environment
---
Unlike the air coming out from regular air conditioning system (too cold or too hot), the air from Geo Power System is gentle and mild. You feel fresh and gentle breeze all the time as air is always moving.
- High-quality, fresh indoor air
- No more stuffy, stagnant air
- Filtered air free from dusts and pollens
- No need to open windows any longer

Air ventilation is getting more and more important in very airtight buildings nowadays - Geo Power System perfectly addresses the issue.
Patent : US 6,293,120 B1
Building air conditioning system using geothermal energy
Geo Power System
---
An innovative air ventilation, air preconditioning, air filtration system using shallow underground renewable energy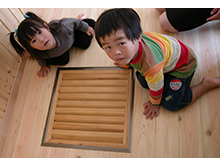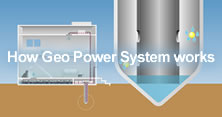 System Benefits
---
Effectrive use of energy.
- Condition outside air to moderate temperature More than 50% of HVAC energy saving
- Store "off-peak" lower cost energy and use it when the demand is high


Extremely high indoor air quality
- Fresh air supply without opening windows
- Built-in filtration system removes dust and pollen
- Slightly positive air pressure inside naturally push air outside
Low impact gentle breeze comfortable to human body

- Constant air movement and mild air temperature make you feel extremely comfortable.